Post by trux on Jun 16, 2018 6:58:15 GMT -5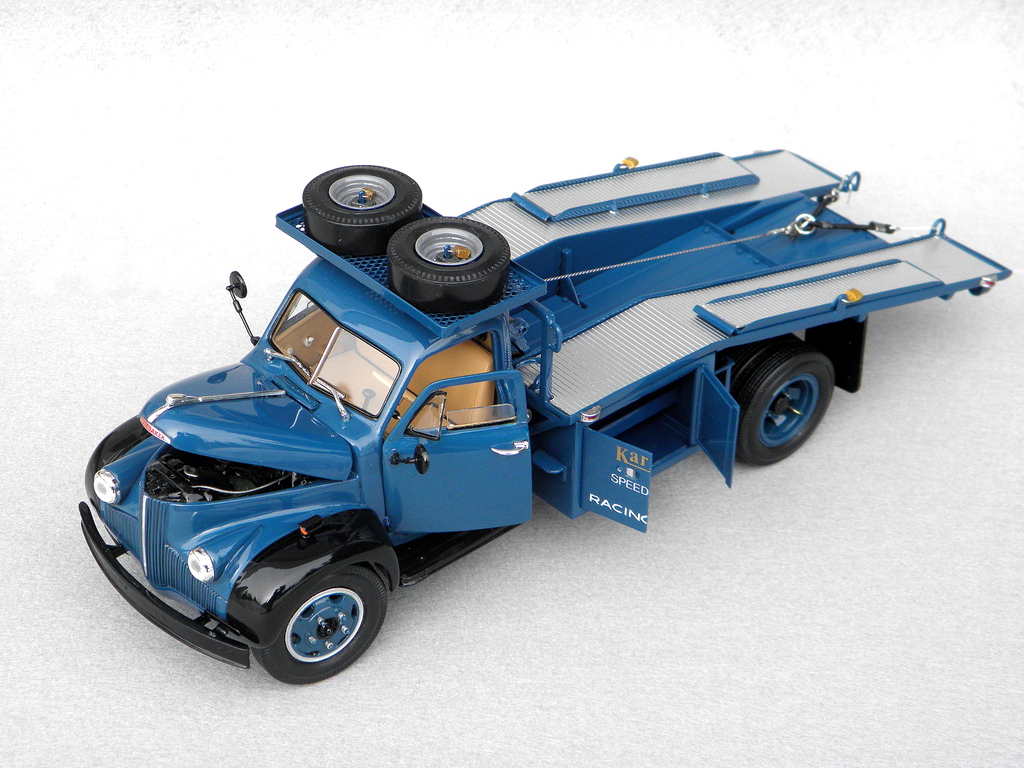 This model was done a while ago and was a unique experience for me as it combined my passion for models of stock vehicles...often classic trucks, with my brother's passion for models of traditional hot rods and '60s era drag race vehicles. His completed model of a 1962 era class legal Studebaker C/GAS coupe prompted me to move my concept for a 1948 Studebaker M16-52 truck to the top of my priority list and equip it with a '60s era-typical sloping deck race car hauler body .
The starting point was a 1/25 diecast Ertl 1947 Studebaker pickup that does not have an opening engine hood and the doors have incredibly long dog-leg hinges. Using plenty of reference material, the first step was to modify the cab appropriately and proportionally by separating the engine hood, raising its front profile and adjusting the lower hood gap angle, widening the fenders and enlarging their radiused opening, creating correct door hinges (exposed at the bottom but hidden at the top), enlarging the height and width of the windshield, creating the engine firewall, etc.
My experience with soldered brass construction and its inherent durability was applied to the front axle and working steering, the bumper, upper hood latch, complete ramp frame and body structure, door mirrors, directional lights, tail lights, etc.
The interior is detailed with inner front kick panels, shift and brake levers, door panels with separate cranks and handles, editing of the dash radio but inclusion of all dash knobs and vent lever. Heater and ducting are present. The chassis structure is scratch built as are brake drums, booster brake assembly, master cylinder, safety brake, gas tank, PTO to the winch, all drive shafts (3), exhaust/muffler assembly, body to chassis attachments, battery, and more. The Commander 226 cu. in. flathead six has all its hoses, lines, wiring, manifolding, and oil bath air filter. The hood opens with real spring scissor action, and the hood 'stay' rod swings down from its central 'under hood' position. The vent windows open and close using that unique front-pivoting action present on many Studebakers.
Using base-coat/clear-coat and my brother's well equipped paint booth, the truck was painted in Studebaker commercial Iroquois blue with the black fenders being standard on virtually all heavier Studebaker trucks of that era.
Though the project became a month and a half long, relatively full-time obsession, as a committed model builder for many years it was satisfying and certainly seemed like time well spent.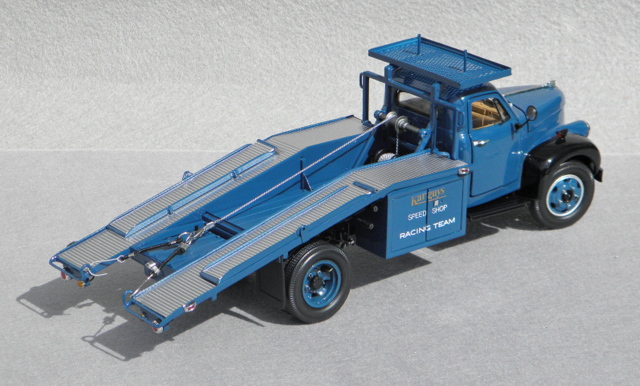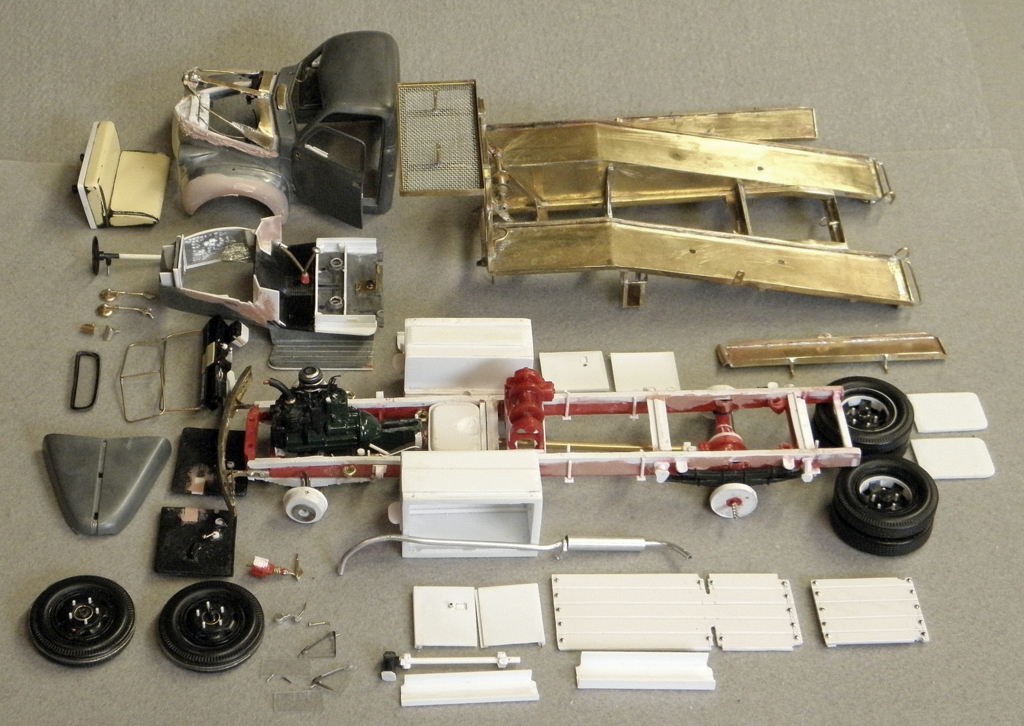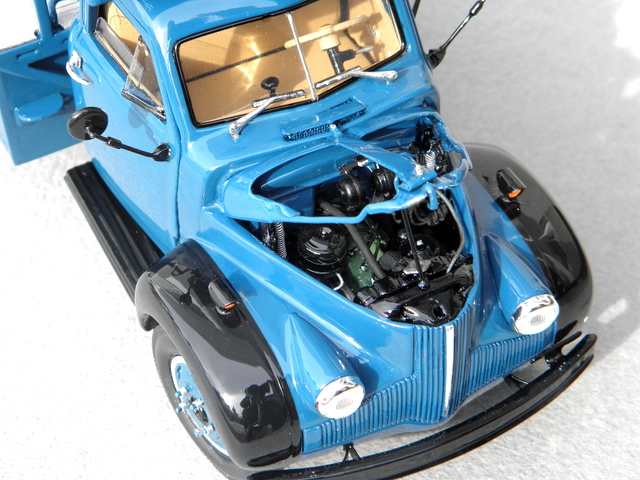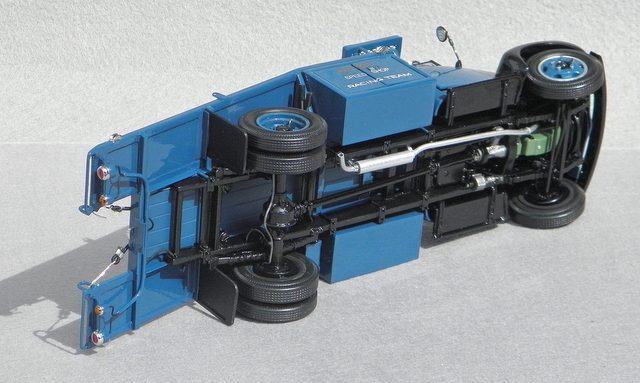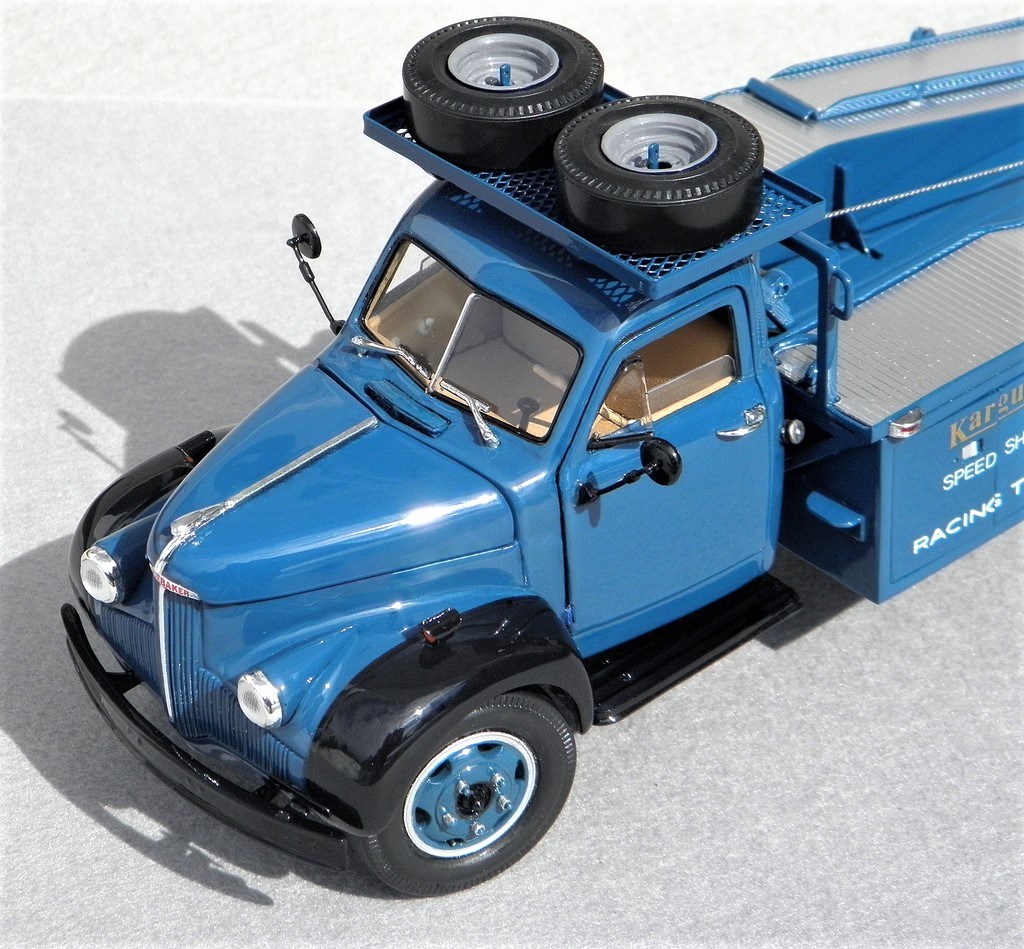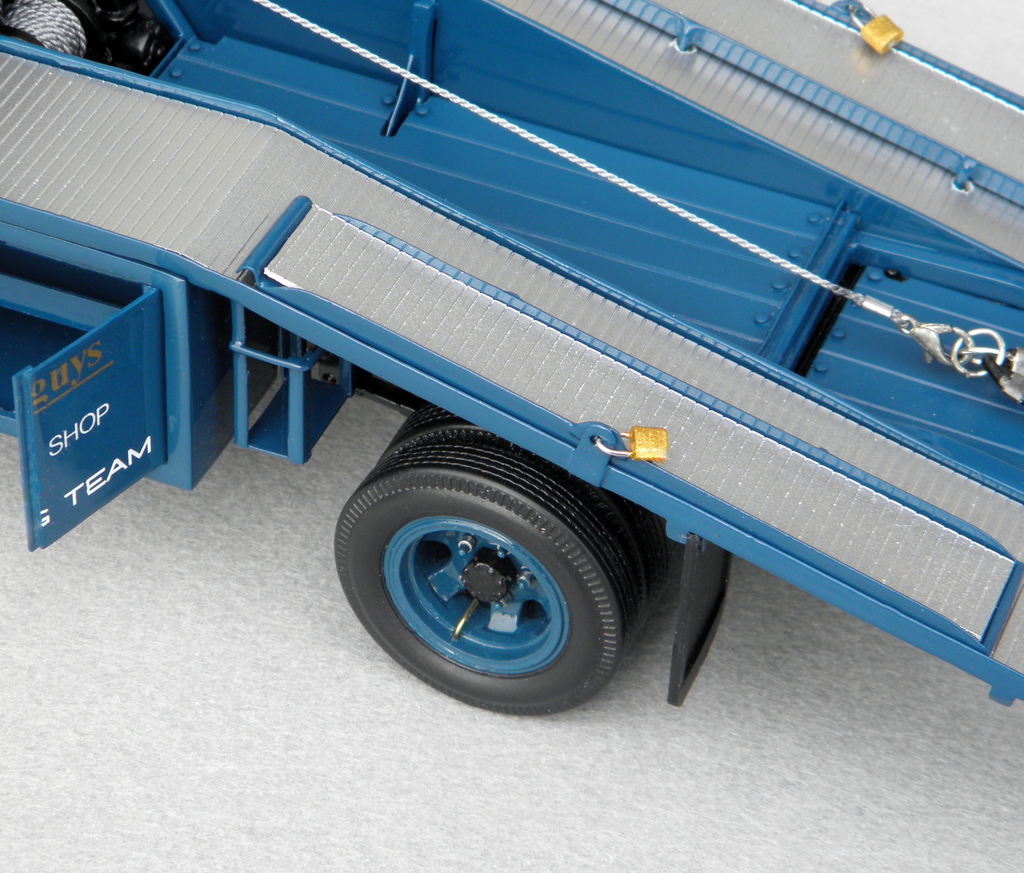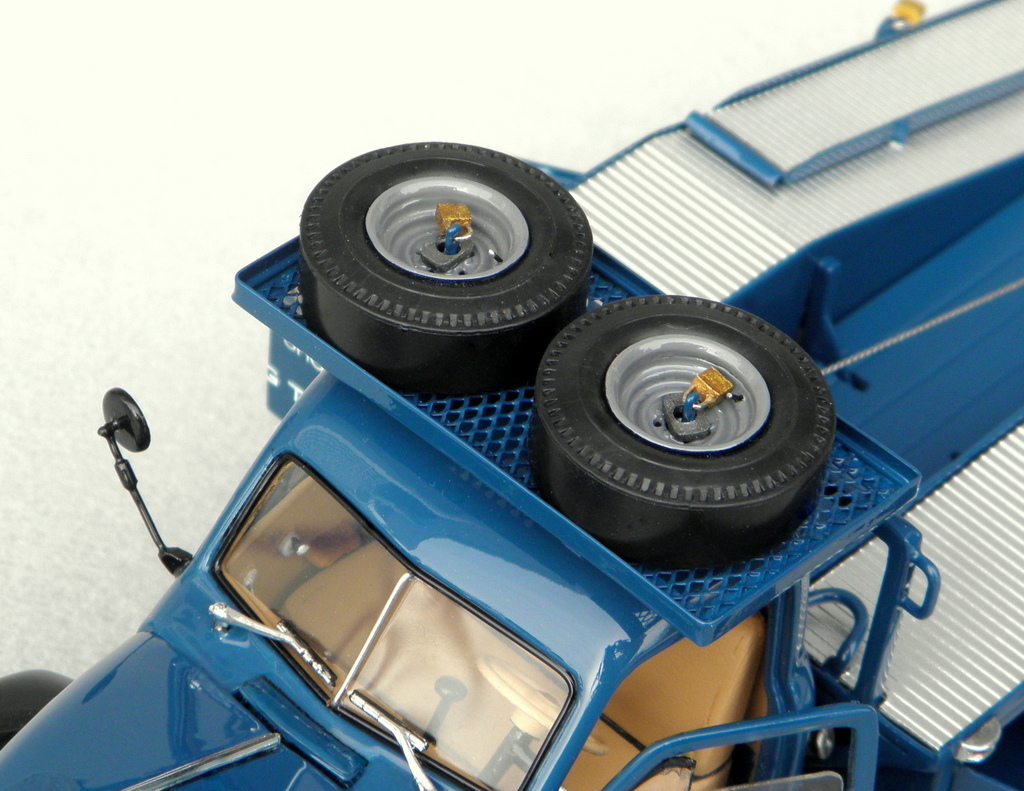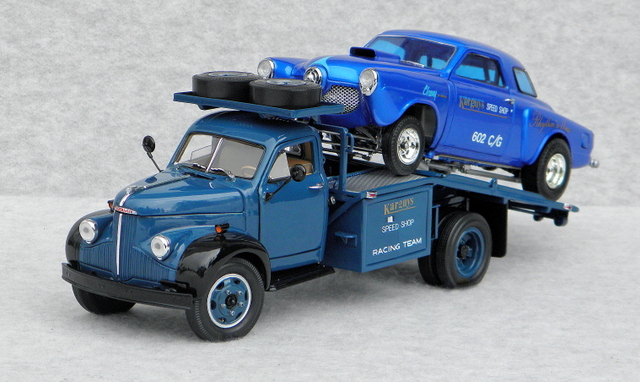 Shown with my brothers Studebaker c/Gasser on board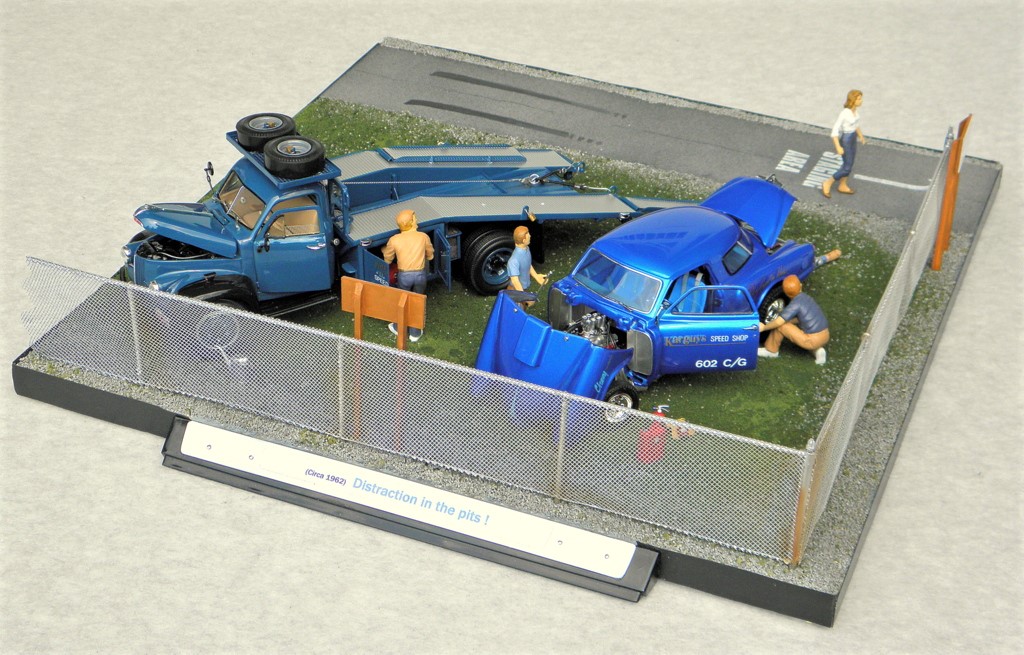 Our pit-scene diorama ensemble....'Distraction in the pits'
Larry Read