Post by traditional on Nov 27, 2017 14:04:00 GMT -5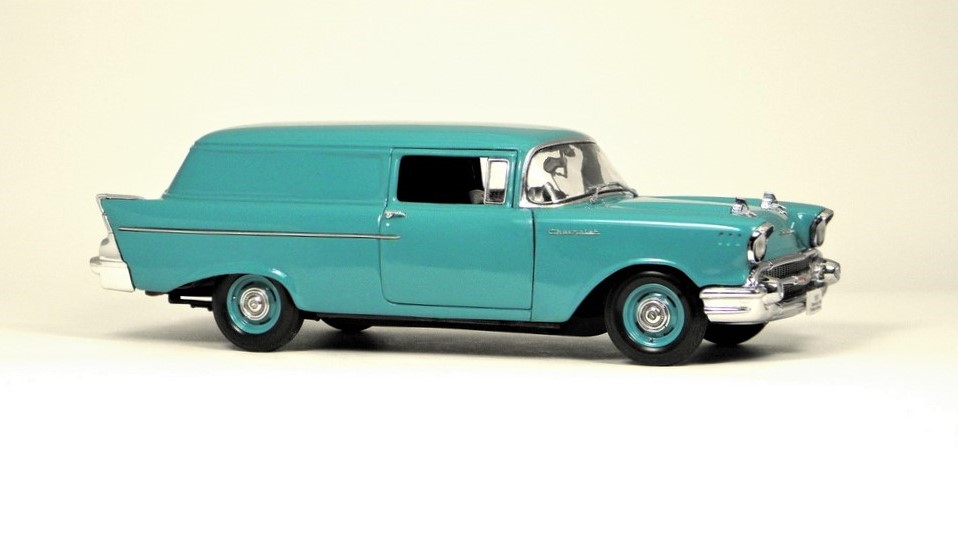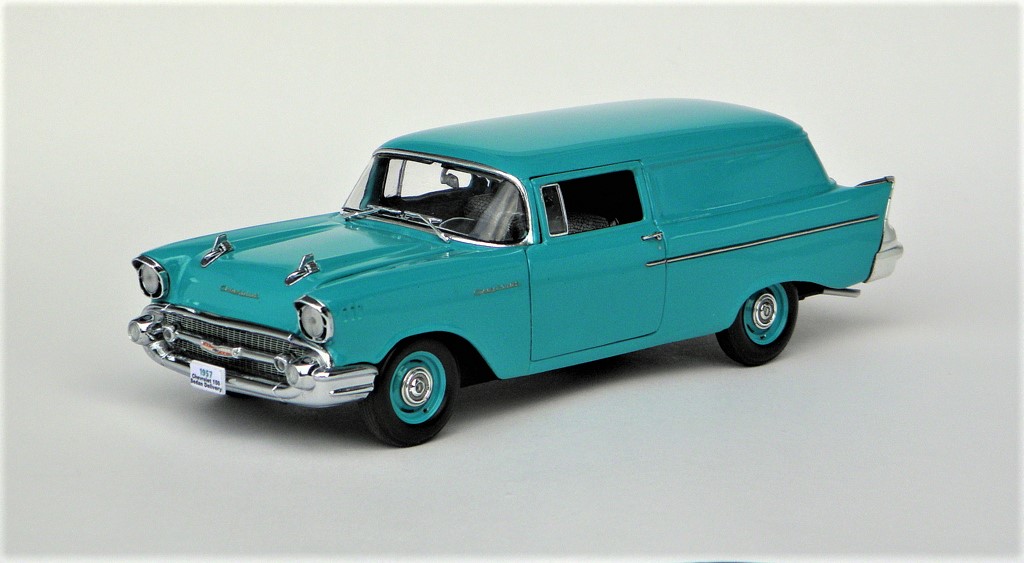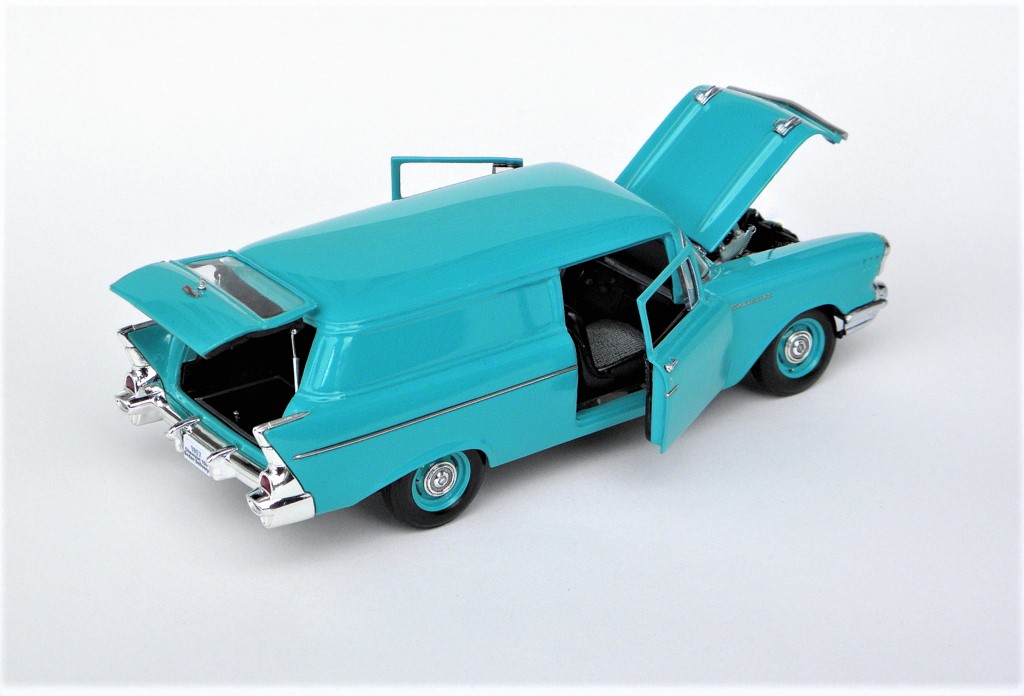 The inspiration for this factory stock '57 Chevy 150 Sedan delivery came from a toy 1/24 'West Coast Choppers' 2-door wagon. There were some reasonable body parts on the toy but the fender openings were oversize, the grille was dis-proportionate, and the chassis was strictly a low-rider. There were two additional donor cars involved in my sedan delivery build….the Revell '57 Chevy 150 'Black Widow' kit as well as a Unique Miniatures '57 Chevy Nomad coin-bank toy.
Sedan Deliveries were part of the basic 150 series, intended as work-horses, and the vast majority of stock '57 Chev SDs came from the factory with six cylinder motors and three speed standard transmissions. They were based on the 2-door wagon body but without the rear side windows and with a simple, slightly raised flat cargo floor. Seats were non-sporty simple buckets with the driver's back rest hinged to fold forward for cargo access and the entire rigid passenger seat hinging forward from front hinges.
The unique Replicas Nomad coin bank supplied the entire front clip (fenders and hood) as well as a section of rear fender opening detail. I also wound up modifying the coin-bank chassis for accuracy…..completing the spare tire receptacle, adding a hand-made (Renshape modeling resin) wagon style fuel tank, as well as a completely scratchbuilt parking brake detail. The rear axle came from the Revell 'Black Widow' kit, and the exhaust is aluminum tubing.
Following lots of research, the interior structure for my model was entirely fabricated from sheet styrene, including the spare tire access towards the rear and the headliner. The stock-style folding seats were hand fabricated using Renshape. I made my own tight-swing door hinges to replace the original dog-leg hinges on the wagon toy
In the engine compartment, the 235" six- cylinder block came from the WC Choppers wagon toy to which I added a stock style air filter, fuel and vacuum lines, heater lines, and to the engine hood, I added hood-hinge/spring detail, etc.
I used slightly larger wheels (parts bin) and the Revell 'Black Widow' tires, and had to enlarge the rather undersize stock Revell dog-dish hubcaps.
The photo-etch grille mesh and Chevrolet nameplates are all from Model Car Garage and the stock upholstery pattern is from Scale Motorsports.
The paint is basecoat/clearcoat depicting factory available Tropical Turquoise. Since all non-undercoated '57 Chevies used red oxide as the underside color, I chose that instead of body color or black.